STUDENT GUEST OF THE WEEK
: Ethan is a burgeoning tech enthusiast who got accepted into Harvard, Yale, Princeton, Duke, Brown. This week he's answering your questions on how to best craft your application and narrow down your college search/decision process.
ASK HIM ANYTHING
!
Learn from Amy Nelson from
International Scholarship and Tuition Services
and Denise Trusty from
Morehead State
how to pay for college amid COVID-19 economic changes. Join us tomorrow at 5pm ET.
Register
and
ask your question
NOW.
He's IN!!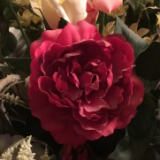 conmama
4768 replies
341 threads
Senior Member
Remember my freshman in the Bridge program that got caught with weed a month ago? They let him stay in the Bridge program, but we didn't know if the state Uni would let him matriculate in the spring. Well....he just got notified that he's been accepted AND he got a 3.8. This is a kid with ADD who has struggled his whole academic life....worked so hard. We are all just flying high right now! i hope he's learned his lesson and grateful for this 2nd chance.
33 replies
This discussion has been closed.