I've stoved one finger and hurt another.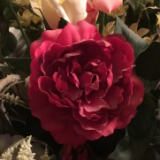 conmama
4083 replies
298 discussions
Registered User
Posts: 4,381
Senior Member
Hoping someone chimes in! Last December as I was running around getting ready for the holidays, I tripped and caught myself on the door with my pinky. That hurt unbelievably! I went into the doctor about a couple months later when it wouldn't stopped hurting. It hurts when I push the entire finger towards the other fingers and when I push bend the knuckles and push it towards my palm. Doc said it wasn't broken, and to just do exercises. It's 7 months later and still hurts.

Then 3 weeks ago, I bent down with middle finger bent and "stoved it" at the big middle joint. It only hurts at that joint, but it hurts enough it tough to do things.

Should I just continue to take ibuprofen for awhile? The last time I went to a hand doctor for some soreness in the pads of my palms, they did some tests and it was $2,500! I was so mad! Would like to avoid a hand doc.
13 replies