I bought my first Michael Kors purse!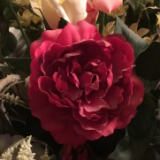 conmama
4266 replies
315 threads
Registered User
Senior Member
I'm quite excited, thank you very much! I know we've had similar discussions from a few years back, but I hadn't purchased a designer bag yet. Through the 25th, they are all 25% off by the way...how could I resist? And this lovely was more discounted than that. I saw it in our high end mall in the spring and summer at full price, thinking I'd love to have for my fall birthday (which is in 2 months so this is my gift to myself). Since it was marketed for that season, I guess that's why it discounted more, but I think it looks fallish. Hobo type bags are my fav. I wish the strap were a couple inches longer and there was a separator in the middle, but the grommets sold me.
I never carried a designer bag until this summer when I got my fun coach. Now that's all I want to carry. I don't know why, but there it is. Honestly, $149!
https://www.michaelkors.com/product/brooklyn-large-leather-shoulder-bag/_/R-US_30S7GBNL3L?colorExplode=true&skuId=126236359&ecid=MKC_Google_US&source=googleshopping&utm_source=google&utm_medium=cpc&adpos=1o2&scid=scplp126236359&sc_intid=126236359&gclsrc=aw.ds&&gclid=EAIaIQobChMIg8PPn9HS5AIVgsDICh3S3gQtEAQYAiABEgJPHfD_BwE
I love the grommets on the strap. I also went ahead and ordered the garnet, as that's my favorite color, but there are a lot of bags out there in that color. The green was so unique. I'll decide which one when they arrive. DH said to keep both, but I'd rather have a different type.
I also bought this as my smaller purse when I need one. I like to take a neutral on vacation with me. I like the color of the chain. It doesn't scream silver or gold, it sort of takes on the hue of jewelry you are wearing.
https://www.michaelkors.com/product/ginny-medium-pebbled-leather-crossbody-bag/_/R-US_32T8TF5M2L?colorExplode=true&skuId=231732738&ecid=MKC_Google_US&source=googleshopping&utm_source=google&utm_medium=cpc&adpos=1o1&scid=scplp231732738&sc_intid=231732738&gclsrc=aw.ds&&gclid=EAIaIQobChMIo-HB5dLS5AIVCIzICh1GmwVGEAQYASABEgJNHvD_BwE
98 replies