Photos and how to condense?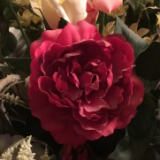 conmama
4266 replies
315 threads
Registered User
Senior Member
I love photos, and look at all of mine regularly. I have almost 50 regular albums. I just don't have room anymore. I have them all nicely organized on my PC, but that's not how I like to look at them. I fill up one album each year with around 300 gave or take per year.

Of course, it's not too expensive. Probably $50 for the whole year if I get photos cheap.

I'm thinking of doing photo books instead. It seems they would take up much less space. I don't want to be creative. Just download 4x6 sizes and have it assembled that way. Does anyone do that?

15 replies