What decorative pillows do you have on your bed?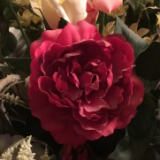 conmama
4352 replies
320 threads
Senior Member
We have a king. We used to have 2 king shams, 1 euro, and 3 smaller pillows. We swore next time we got a new bed we were stopping with the pillows. What a pain to take off, then make it up.

Well, we just bought a new bed. Headboard is quite decoative, padded and tufted. Never had one before. All the pictures I see have beautiful deco pillows and I'm leaning that way yet again!

Just wondering what you all do? At first I thought 3 euro style for the back ones, but I don't want to cover up my pretty headboard. Maybe just smaller ones.
45 replies