We have changed the way we log in on College Confidential. Read more
here
.
Anybody have painted paneling?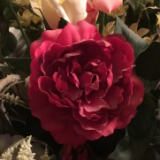 conmama
4541 replies
328 threads
Senior Member
After going on 25 years, H has finally agreed to paint the FR paneling. You don't know how many times I have heard from him and other men, "but this is real paneling". Just last month a drywall repairman came in, looked in the FR and said it was real oak wood, you can tell, not that cheap stuff. I told him we were going to paint it and he thought that was a shame.

The FR has a lot of very nice woodwork besides that paneling, and that is staying stained and not getting painted. It's a dark warm pecan.

I've never been a fan of painted paneling, but I'm really tired of the 70's look. Has anybody else done this, your thoughts! I'm thinking semi-gloss. It's too cost prohibitive with all my woodwork to drywall.
30 replies