What do you wear for international flights?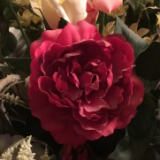 conmama
4634 replies
334 threads
Senior Member
I need to find a new "uniform" for long flights. One where it won't look stupid wearing sandals. Therefore, no leggings or joggers. Love that look for traveling, but I'm not taking sneakers at all. I'll be leaving in September, so fairly warm weather and arriving the same. I get cold on planes. I'll also be putting on compression socks. I thought maybe palazzo pants, I've never worn those.

Trying to get ideas!
91 replies