We have changed the way we log in on College Confidential. Read more
here
.
Downtime for kids -- A day in the life of....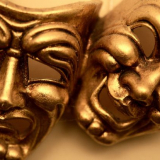 Twelfthman
136 replies
41 threads
Junior Member
My D is likely to be going through this process in a couple years, and I'm trying to get a sense of what the audition experience is like for a young performer.

I'm hearing about multiple instances of MT programs asking for a full day or half day time commitments for auditions, but even in these scenarios it's still a couple minutes of singing, a minute to share a monologue and maybe an hour dance call. I realize the school may throw in an information session, a brief interview, time is needed to warm-up and perhaps change outfits / shoes, and the inevitable required "wait for your number to be called" time. Is there much more going on that I'm not capturing? If not, what are the kids doing with their sizeable downtime... homework, reading, etc.? If there is actually very little downtime, how is that time used up?

Thanks in advance for your help in understanding where the time goes and what the young performers do in what appears to be long gaps in the day for schools that ask for half-day or full-day time commitments.
3 replies
This discussion has been closed.